OUTLINE
An acquisition is just one technique to execute your strategy. Acquisitions fail the same way many strategies fail – execution. The Acquisition Approvals Model breaks down into six phases with a key approvals stage at the end of each phase. The six phases are Strategy, Target Identification, Assessment of Target & Price, Negotiate Price & Structure, Legal Completion, and Post Completion. The order is important. Our process map highlights the phases we implement to ensure clients achieve success. Please feel free to download a complementary copy of our latest Acquisitions Playbook published February 2015 and highlighted on the sidebar. In summary we help clients as follows:
1.     STRATEGY
We review and develop your strategy
We build your Acquisition Profile

We conduct a Quick & Dirty Search – It is important to check quickly that targets exist that match your precise shopping list.
2.    IDENTIFY TARGETS
 

We help build a team using your staff for each of acquisition

We project manage target identification.

We collate key facts: in three strands, market intelligence, target info non people and people. Remember this is just the initial gathering of key facts on priority targets.

We collate briefing papers & mandates
3.     ASSESSMENT OF TARGET AND PRICE
We handle initial contact.

We assist in early discussions with targets.

We help you prepare board mandates to enter more detailed discussions.
4.    NEGOTIATE PRICE & STRUCTURE
At this stage of an acquisition you are entering a dangerous phase of emotional attachment. We continue to keep you objective.
We coach you through the final negotiation process to achieve the best price and the most effective deal structure.
5.     LEGAL COMPLETION
At this stage you want to ensure that all due diligence is completed, commercial, legal, technical. There are usually several parallel projects going along at the same time including the draft purchase contract.
We review all investigation reports and ensure all outstanding due diligence items are flagged up.
6.     POST COMPLETION
The acquisition team meets as soon as possible post completion to review lessons learned. This one step has proven to be crucial to improved success according to all the merger research
The post acquisition plan is now executed. Integrating an acquired company is a challenging problem.
You need to think about practical action items in 30 day, 60 day and 90 day cycles. You need to dedicate a point person to ensure success. Integrations need driven. They don't just happen. Our team are experienced at integrating acquisitions.


THE PROCESS
We love process maps and our Acquisition Approvals Model ensures acquisitions are completed and integrated  successfully.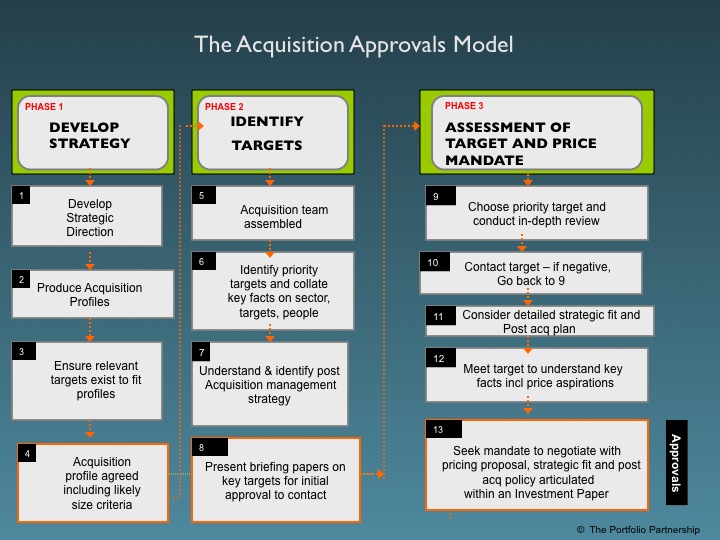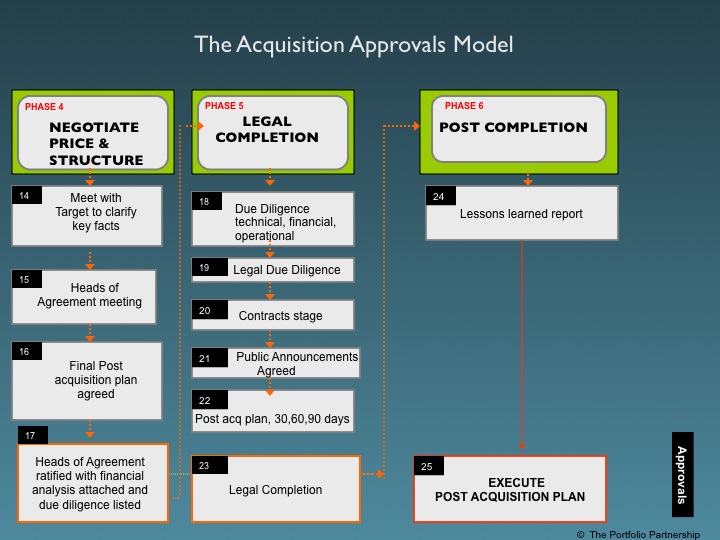 Would you like a more robust approach to acquisitions? Is your acquisition process delivering consistent results? Give us a call on 978 395 1155 to discuss our acquisition services.