Ian is currently delivering his popular presentation on Scaling Private Businesses – Building Businesses Buyers Love To Buy
Building Businesses Flyer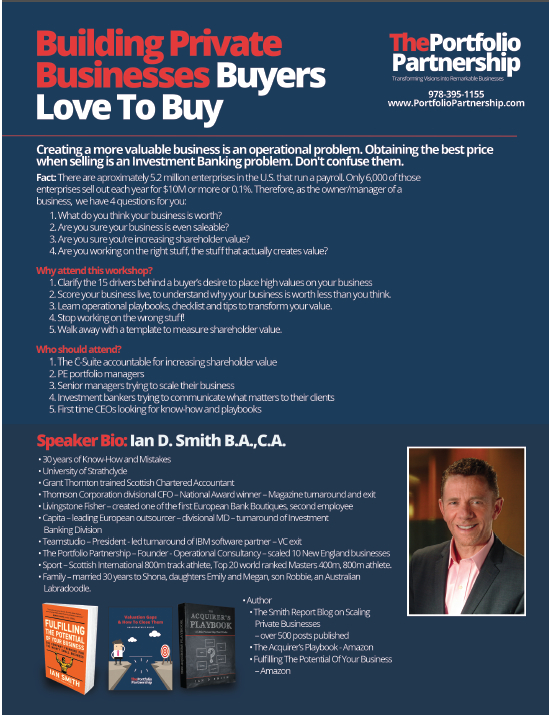 Ian loves speaking! He has delivered over 100 presentations on creating remarkable businesses and executing acquisitions. Material is based on his near 3 decades in business as a finance director, venture capitalist, investment banker in Europe and over the last 15 years in New England as the CEO of an award winning IBM business partner and interim CEO/COO of several Inc. 5000 businesses. Ian's favorite topics include:
Entrepreneurship – Building Business Buyers Love To Buy
Mergers & Acquisitions – A blueprint to maximize integration success
Sales – How Curiosity Leads to Success
He is equally happy delivering a story in a board room setting or an auditorium. His latest book, The Acquirer's Playbook offers a practical guide on how to beat the odds of successful deal making. He has published books on entrepreneurship, mergers & acquisitions, management buy-outs and how to sell your company. The Smith Report Blog has published posts almost ever week since 2008 and has a strong following around the globe. As a young athlete Ian was a member of the Scottish International track squad at 800m. He returned to track in 2006 as a more mature masters athlete and has enjoyed world-class status since his return. To book a paid speaking gig contact Ian at ian.smith@portfoliopartnership.com.
 The Acquirer's Playbook Launch Party & Why Acquisitions Fail.