In the second part of my series on How to Buy Companies, I'm going to highlight Phase 2, identifying and assessing targets.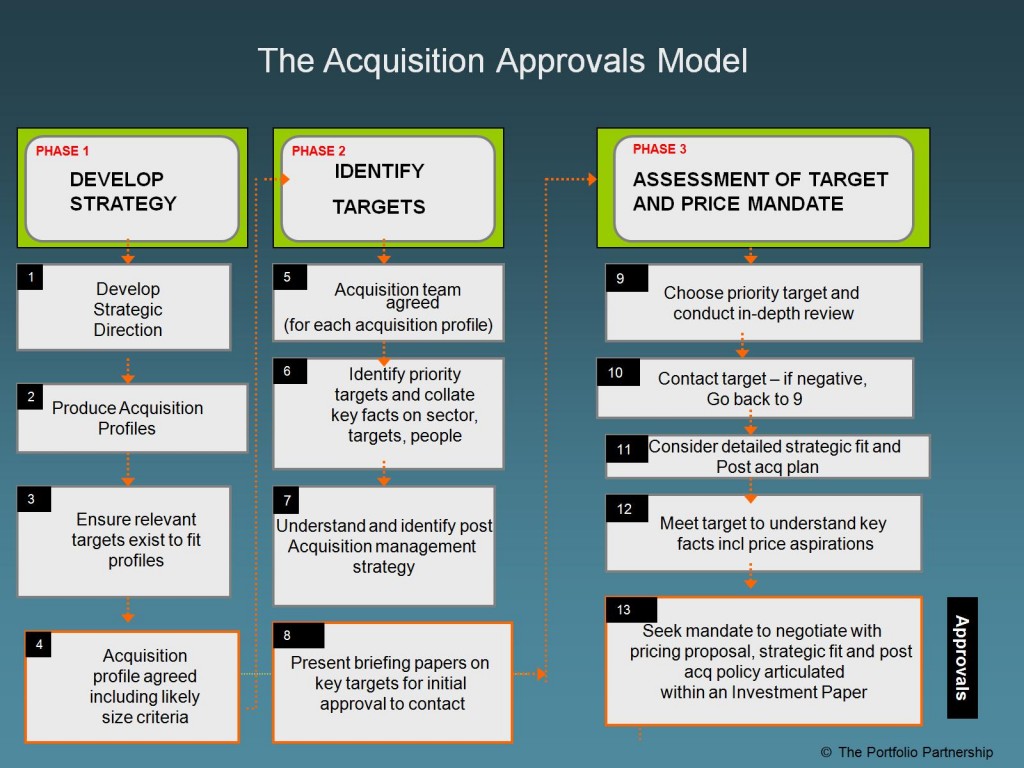 The key to this phase is finding targets that really match your Acquisition Profile (shopping list) and being ready to discuss how you would integrate the target into your existing business.
In acquisitions you are constantly worrying about page 10 when you are on page 3! I want you at the end of Phase 2 to be ready to engage in an insightful conversation with a business owner. That takes hard work and homework.
You are mimicking post acquisition integration thinking now, not when you own the business. As practiced acquirers understand, the aim is to know more about the target than they know about themselves.
Identifying Targets
The acquisition search process has been transformed over the last 10 years as information increasingly comes online. That said, tips for places to look for target names –
Private Equity portfolio company lists.
Trade shows attendee companies.
Inc 5000 list.
Software 500 list.
Gartner sector reviews, Hoovers, Keynote, Dunn & Bradstreet, American City Business Journals, Ward's Business Directory.
All sectors/segments have trade bodies with members.
Your own sales teams, technical staff, marketing teams (assuming it is not confidential).
Influencers, lawyers, accountants, suppliers are all capable of generating ideas.
Collating Key Facts
I suggest pulling this together in three strands, market intelligence, target info non people and people. Remember this is just the initial gathering of key facts on priority targets.
Detailed due diligence covering a plethora of subjects comes later.
Market information should include all the key players, relative size, USPs, key trends, forecasts, threats and opportunities. Ask yourself  what would an investor need to know if you were summarizing the market and the companies within it.
Target information on each target needs to include (and this will not be easy for private companies):


Shareholders
Sales for the last 5 years
# of employees
Profitability if known
Main products/services and key business results each target delivers for their customers
Key customers
Office locations
Awards
Sales channels
Press Coverage
Social Media summary
Estimated market share

People information should include:


Organization charts
Bios of the management team
LinkedIn profiles of key staff
Google results of  key staff
Technoratti ranking of their blogs, twitter rankings, social media ratings
Briefing Papers & Mandates
These key facts will then be pulled together to allow you to do several things:
Assess an initial post acquisition fit e.g. there might be immediate client conflict revealed, georgraphic fit might be excellent.
Start to prioritize the target list based on facts not emotion.
Build briefing papers on priority targets to seek a mandate from your Board to contact targets.
Craft an insightful script for target contact.
Acquisitions are difficult projects to get right but deploying a proven methodology will tilt the odds in your favor.