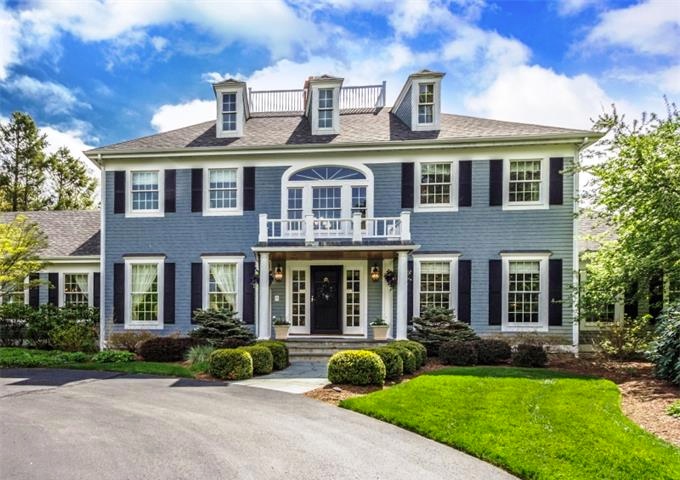 Plato the Greek philosopher, is credited with the quotation: Beauty is in the eye of the beholder.
Valuing something is truly a personal affair. Take my house pictured above. Last month it came to the market, at what my wife and I and our realtor believed was a fair price. 
But as in the acquisition of a company, the acquisition of a house follows a golden rule. Sellers aspire to price and buyers perceive value. The buyer of my house will place value based on a personal perception to his or her family. Excluding investor type buyers, the family assessing our house will consider the 10 acres of land that guarantees privacy, the 3000 square foot basement that delivers a superb gym and games room. The bright cathedral ceilings in the family room, deliver gorgeous sunlight throughout the ground floor. The flow of the house was designed for parties both inside and outside. Of course the wooden paneled office is a great place to write a blog or work from home! And of course you need to switch off in your own personal movie room. If kids are part of the equation then it helps that the location delivers one of the best public school systems in the country. I can only place an expectation on the price of the house. It is a series of buyers who will tell me how much it is worth to them. Of course I hold a small advantage in this dance of value. I own the house!
Uber Inc. the fast growing company that facilitates the hiring of a taxi, is now valued by venture capitalists at around 90 times its revenue. Assuming it is producing around $200m in revenue, the VCs are placing a value of $18 billion on the company. It is now worth more than Hertz and Avis combined as the WSJ pointed out. As Mr. Kalamick, CEO pointed out in answer to a WSK question on the size of the market, " a market research report from 2009 stated that in San Francisco the annual taxi and limo spend is about $120m. But we are a healthy multiplier bigger than that right now, just Uber in San Francisco. So its not about the market that exists, its about the market we're creating." So all these really smart money men are perceiving a value tomorrow based on Uber creating a new global platform for hiring taxis, boats, supply chains. Beauty is in the eye of the beholder.
Facebook paid $345 million per employee or $19.2 billion to acquire WhatsApp, a 55 person messaging service. The value to Facebook must be related to what Facebook can do with WhatsApp's active user base. That monthly active user base is an eye watering 500 million users. Facebook's number is 1.28 billion and Facebook is worth $160 billion. They may have overpaid but relative to what? There is no equivalent to WhatApp's growth and user numbers. Standing on the side it is difficult to judge another person's value.
Google, Honeywell, Oracle, Cisco have all acquired companies in the last five years that look expensive compared with profit ratios or sales ratios of large public companies. These deals were often done at six to nine times revenue and huge multiples of profit. But was that really how these acquirers assessed the value? Read the announcements to begin to understand the post acquisition strategic plan. Often these deals were giving the acquirers a whole new set of skills to help them create a new platform of technology.
As an acquirer of an asset, be clear on the personal value you can achieve from the deal. Wrap value around the benefits and outcomes that will flow from the acquisition. Remember some opportunities only come along once in a lifetime.