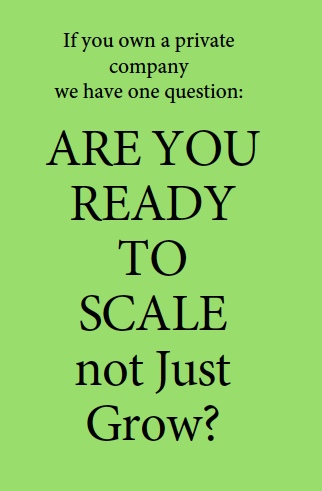 You are cordially invited to attend a fun breakfast briefing with me your favorite award-winning author, blogger and entrepreneur at
Choate and Hall and Stewart, LLP
Two International Place, 35th Floor
Boston, Massachusetts
Wednesday June 5, 2013 – 8.00 am to 9.30 am
RSVP to boston@investni.com We need to know you are coming for security reasons!
 WORKSHOP CONTENT
 THE PROBLEM: 
There are 27 million firms in the US and the spread of their size is quite revealing:26.9 million firms employ up to 99 people. Only 100,000 firms employ 100 people or more. And only a few sell out for $10m or more each year. Last year there were only 6000 companies that sold for $10m or more.
THE CONCLUSION:
Creating value is tough.
Rarity exists at 100 people or more.
Scaling a business requires methodology, Playbooks and "Know-How".
THE SOLUTION:
 SCALE YOUR BUSINESS TO CREATE RARITY, SAFETY, PREDICTABILITY
 This workshop will answer the following questions:
How do you position your business to connect with new customers?
How do you tell stories that resonate with your prospects?
How you build a great sales process?
How you align the efforts of marketing and sales?
What should you be measuring?
How do you acquire and nurture talent?
How do you incentivize your team?
How do you become remarkable instead of invisible?
Why does scaling fail?
This workshop will give you measured actions to transform your vision into a remarkable business. It will teach you scaling skills. Using case studies from over 30 years of scaling businesses let Ian explain how to build a compelling story and an operational blueprint, to make that story come alive. You can beat the odds of creating a valuable business but you need to have the "know-how".
For your friends, this will explain who the hell I am – Ian is the author of Fulfilling the Potential of Your Business: Big Company Thinking for the Mighty Small Business, which won the Small Business Book Awards for Management in 2012. His blog, The Smith Report, focuses on ways to build business value. In 2010 he founded The Portfolio Partnership to help CEOs fulfill the potential of their businesses. As an ex-CFO, investment banker, venture capitalist and CEO, Mr. Smith has realized more than $400 million for shareholders over the past 25 years
Attendees will walk away with insight on building a compelling story for their business and an operational blueprint to make that story come alive. I will take as many questions as possible.
I will be joined by my business partner Martin Kelleher, a highly experienced COO/CFO who has helped many companies scale. Also attendees will meet senior members of Silicon Valley Bank and of course senior partners from our hosts at Choate and Hall and Stewart, LLP.
Please note that space is limited.  Registration required. First 20 receive my latest book and I will sign it!
The event is sponsored by: