Hard to believe but 98% of US companies employ less than 99 people.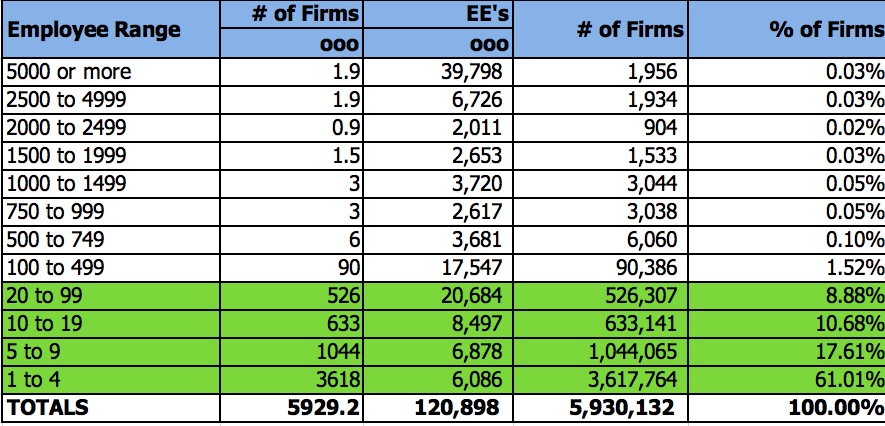 To scale these companies (and of course the other 2%), the simple formula that most entrepreneurs seem to ignore is quite simple.
Define your Positioning that you wish to dominate in the prospects head (Positioning Al Ries Jack Trout).
Build a Strategic Plan covering the next 3 years that articulates by department how you will achieve that.
Build a set of financials that includes P&Ls, Cash Flows and Balance Sheets that are a corollary of the policies outlined at point 2.
If required, raise money to fuel the financials outlined at point 3.
That's it. Easy.
So let's explore a little more detail behind this formula and some tips to articulate a winning strategy with impeccable execution.
(By the way, did I mention we sell this as a service called The Strategic Plan).
Positioning Tips – Unreasonably Important
Who you are is everything. It defines the product or service you build. It's who you recruit. It's what you measure.
Most Positioning Statements are meaningless bland gestures (tough love). They fail to articulate within the Statement what makes you remarkable. They fail to articulate the key Competitive Value Proposition you bring to the table to improve a customer's world. Recent examples I like –

Toast- Our restaurant management platform combines point of sale, hardware, software, and payment processing with a suite of third-party integrations to help restaurateurs like you improve operations, grow revenue, and delight your guests.
AEi is the market leader of automated sensor assembly and test equipment for the automotive market. Our systems have enabled major automotive groups to bring Advanced Driver Assistance Systems (ADAS) to their global markets.
BlueSnap – The All-in-One Payment Platform to increase sales & reduce costs. Finally, everything you need to process payments — a payment gateway solution, merchant account, and advanced features to boost your bottom line—all in one place.

Strategy is what you leave out. I was at a recent Cloud Orchestration developer conference and it was clear that you can't go after every position in that market. You need to curate. You need to decide which part of the universe you can bring your unique value. Where can I win?
So you really need to understand the needs of the market, the competitive landscape, and your competitive value proposition to imagine your positioning.
Build a Strategic Plan
Once you are clear on what you want to be, it's much easier to build policies and tactics to get there. The most successful Strategic Plans are successful not just because they are powerful positioning statements but because your tactics are layered, multi-dimensional and reflect the patience of someone who cares about reaching a goal (Seth Godin).
Involve all key managers in crafting the operational plans. This guarantees that operational departmental priorities are aligned with the strategy.
The Plan must articulate the resources required including people, systems and equipment. Details and timing of tactics matter.
Identify a few essential multi-departmental projects that will drive operational excellence e.g. implementation of a costing model to produce profitable pricing models, expansion of ERP systems, development of comprehensive training and development programs to nurture your talent.
Bring all these operational policies together in a cohesive financial plan that delivers on your financial objectives.
Funding Your Dream
Having gone through this process it will be self-evident that your strategy is self-funding or requires more fuel.
If it does require further funding at least now you have a compelling story to present.
You will be in a position to articulate to funders, the size of your markets and your competitive value proposition. You've done the research and can highlight the Potential Available Market (PAM), Total Available Market (TAM), Serviceable Available Market (SAM), and Serviceable and Obtainable Market (SOM).
You have a compelling story with how you will achieve it and how you will spend the money. You would be amazed at the number of entrepreneurs who struggle to articulate in detail how they would spend the $20m they want to raise!
Of course, you could also scale back your ambitions until it is self-funding but that's your choice.
Good luck scaling and remember the three-point plan  Positioning – Strategic Plan – Robust Financials in that order.
Reach out at Ian@TPPBoston.com