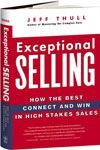 It was in 2005 as our software business was posting solid results that I pulled together our senior sales team for a review. We had successfully implemented the Sandler Sales System with help from a local Massachusetts training company who helped really sharpen the sales scripts on the phone and face to face. However there was something missing from our dialogues. I had lead the strategic change from a software tools player selling sub $1000 apps to a broader positioning of IT governance that embraced $50k to $200k solutions to achieve a higher level of growth. Governance, risk and compliance (GRC) was getting a lot of air time and Lotus Notes, our specialist application domain was the Wild West that needed a higher level of governance and control. The lack of enterprise level governance was causing clients to look at other competitive software platforms. That was the back story to our sales review.
We felt we needed a new sales process that was more holistic, that embraced our new strategic positioning and allowed us to come to market with attractive marketing stories and compelling sales scripts. We researched for something better. My senior salesperson Dan, now a successful sales professional with IBM discovered the Prime Process by Jeff Thull.
Jeff worked with the late Dave Sandler in the early days of the Sandler System and I believe the Prime Process contains some of the better moves of Sandler. We successfully implemented Prime and the results were impressive.
I have subsequently used the process on several successful ventures and would encourage you to dig deep into the books and check out Jeff at his many seminars.
Prime highlighted a few key issues that resonated with me and my team:
• Customers are weak at decision making and often will dumb down the problem to price. Much easier to make a decision on price.
• A prospect is motivated to act due to personal reasons. It is key for sales professionals to understand the very personal world of their prospects.
• Sales professionals need to be invested in the performance improvement of their customers. The prize for this investment is a much deeper relationship and the achievement of trusted adviser status and of course an attractive annuity of business.
• You need to really understand your prospect's world as well as your own products. Deploying diagnostic, insightful questions is the key to understanding the issues that keep them up at night.
I offer these observations from my experience of implementing the process; the numbers refer to my interpretation of the Prime Process (see diagram).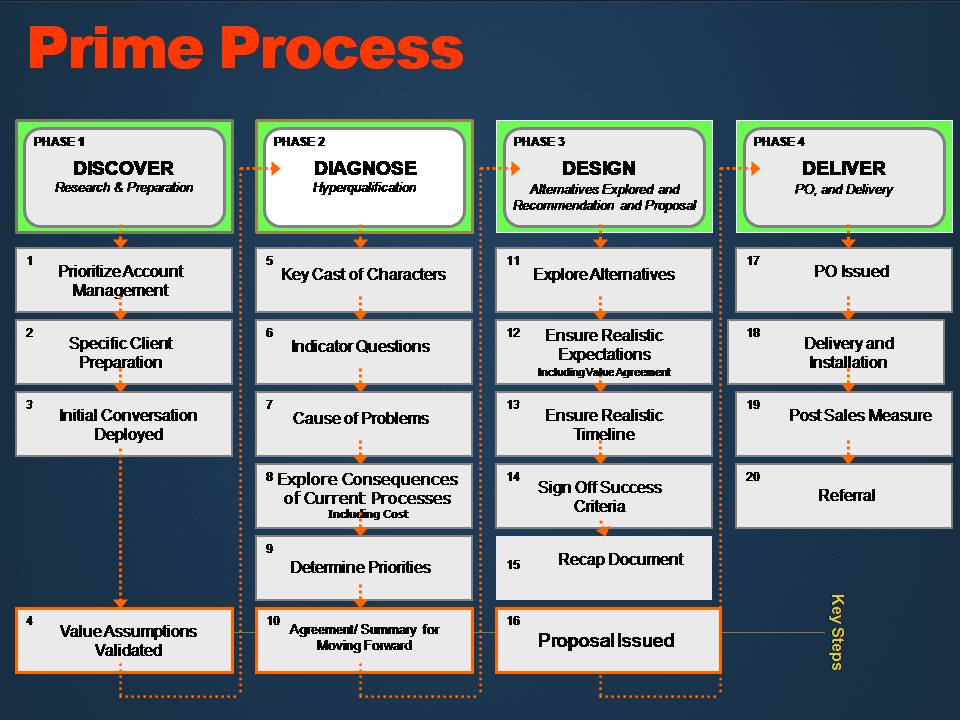 Discovery
1. Not all sales leads are born equal. Therefore you need to prioritize your time. You want to hang out around the best accounts –the ones with the highest probability of change.
2. Preparation is essential to a quality call. You need to consider the assumptions you are making surrounding this prospect. What are the likely hot issues they are struggling with. What insight are you going to bring to this call?
3. Practice these initial conversations. You have 30 seconds to make an impression. Hopefully most of your calls list are not cold calls but marketing leads gathered from responses to remarkable content generated by your buddies in marketing.
4. You are hopefully engaging with a prospect that recognizes the issues you are discussing, gives you the confidence that money can be found for the most attractive projects and is willing to explore the issue further.
Diagnose
5. You are keen to understand the people structures. Who needs to be involved in making decisions?
6. Your questions will reveal symptoms of issues that may have costly consequences. You are opening up the prospect with smart, insightful questions.
7. You will explore the causes of problems. This will lead to a realization by the client that there may be a better way. A way that prevents these causes from happening. Jeff calls it an "absence of value". Your products and processes may be that value that is missing.
8. Most prospects are naïve to the true consequences of symptoms that are present e.g. symptoms from various industries have included weak supply chain management leading to potentially hidden savings of millions of dollars with a smarter process or simply out of date copy on a pharmaceutical, consumer facing web site that lead to law suits and fines. Sales professionals need to be put a cost on the problem. A problem with no cost is not a problem.
9. But all of this activity is worthless unless the prospect recognizes the issue as a priority. Change will not occur without the prospect recognizing the urgent need for change.
10. The diagnosis phase ends with your sponsor, your contact agreeing to explore the best possible solution to an urgent issue that needs to be solved. No nice to haves.
Design
11. This is where we work to reach agreement with the client on what a solution to their problem should look like. We are exploring all alternatives to help the client reach a high quality decision.
12. Expectations have to be realistic. Every part of the solution has to be necessary and justified. You are being crystal clear how the client will use the product on a Monday morning!
13. Time kills deals. We need to deploy reverse timelines, ie if you really want implementation by August 1st then we need to get the PO processed by June 1st. We need to be honest about the lead times for success.
14. We need to understand the process by which the client will assess any solution. Help the client define the important criteria needed of any solution.
15. Proposals should always be documents of confirmation. There should be no surprises, no mystery in proposals. Therefore to avoid this happening, send out a dry run email with the proposed solution, relevant success criteria that will be achieved, price, and ROI docs. Prime calls it a recap document.
16. Assuming a positive confirmation of the recap document then a formal proposal document can be prepared knowing the client is happy to receive it.
Deliver
17. PO is issued. Check the document covers the ground, has the correct signatures, dates, pricing.
18. The PO does not signal the end of the relationship. Being attentive to the client during the delivery process confirms your status as someone concerned about the customer's business, not just your own.
19. Remain concerned that the client is receiving the benefit we promised. Polite and precise follow up within 4 to 6 weeks to ensure results are being delivered is essential to long term relationships.
20. Referrals from satisfied clients are a powerful way of developing your business. The emphasis however is on satisfied clients; hence the timing of a referral request is critical.
It's not often a sales process articulates how sales professionals can sound like businessmen but this process nails it. Understand the issues that live in your customer's site. Create a great positioning, a great marketing narrative and a world class sales process and you are well on the way to creating a remarkable business.