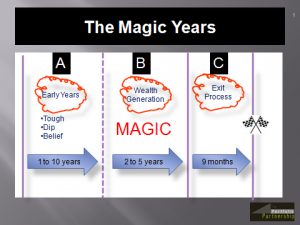 The next 5 years are an unreasonably attractive time to build a remarkable business for sale. There is strong evidence to suggest we are already 18 months to 22 months into a bull market. The average bull market lasts 67 months.
However before you rush off to sell your business it is important to recognize where you are in the lifecycle of your business.
The early years of a private company are often filled with doubts. Only an unbending belief system keeps the entrepreneur driving forward. Think James Dyson who built over 5000 prototypes to get the system to work.
The owner and his team are constantly hitting roadblocks. Pushing past countless dips becomes the normal work week. Tough, driving, relentless behavior without the proof you are right becomes the pattern for months and years.
In some ways, outsiders have limited value at this stage. It is a lonely game covering many years of trying numerous products, ideas, processes and hopefully failing quickly until you have a sustainable business. Even for those that make it through this phase, if you have not discovered a product or service that makes you remarkable then the probability of having a salable business, a business worth tens of millions of dollars is quite remote. There are approximately 23 million private companies in the US, over 2 million in the UK. However the number of private companies selling out for say $10m or more is tiny. Anecdotal evidence from M&A tables of disclosed deals suggests that  as few as 19000 companies in the US and 2000 companies in the UK exit at those type of values. That's a 1 in 1200 chance of pulling it off.
I believe those odds could be changed dramatically (or at least businesses could be much bigger, much quicker and more valuable) by the insertion of the "Magic Years" stage.
This stage takes the form first of an assessment and then a set of 100 day action plans to build a business over the next 2 to 5 years. The questions are designed to diagnose whether a buyer would overpay for you today. (or of course whether any buyer would want to buy you)
The "Magic Years" are where the real wealth is created. Now you can't measure it every day at 4pm like a public company but if you  can consistently nail these performance measurements , trust me you are driving shareholder value through the roof.
Performance Measurements
Your compelling story and the business results you produce are easily understood
Your are seen by your industry peers as a top 5 independent player by sales in your market segment
Growth of Sales and Profits are consistently at 25% plus
Your 3 year horizon indicates a strong and high growth market
You produce award winning products
Legacy products 5 years old or older do not dominate sales and profits
Absolute size of EBIT is above $2m
No one customer accounts for more than 5% of revenue
Your top ten managers are regarded as world class
All senior management team members are dispensable

Your are achieving one of the highest margins in the industry
Your business model produces a sustainable annuity stream of income
Your accounts are audited every year by a recognized accounting firm
Staff moral and staff engagement are high as measured on a consistent basis over several years
Building a remarkable business is a choice you make.