The North American Industry Classification System (NAICS) is the standard used by Federal statistical agencies in classifying business establishments for the purpose of collecting, analyzing, and publishing statistical data related to the U.S. business economy.
As you build your business you should consider sales and marketing strategies that capitalise on the NAICS codes.
We are currently scaling several private businesses by building a marketing and sales strategy around NAICS codes. US Industry uses the NAICS code system to categorize every US business into these buckets: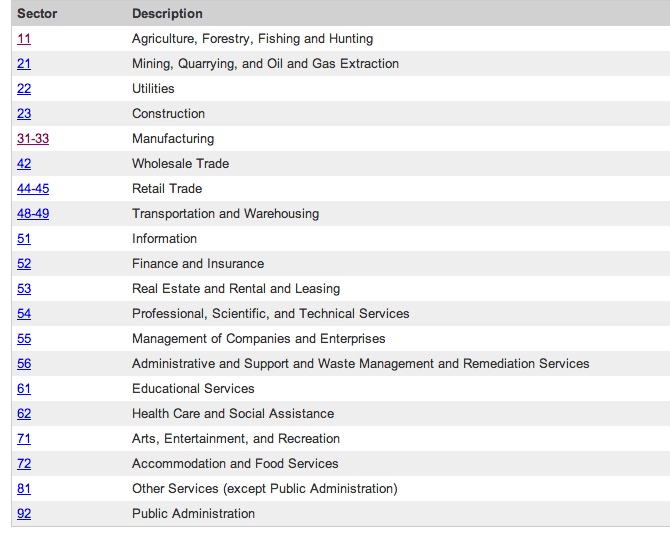 Each NAICS 2 digit sub divides into detailed codes e.g. the first one Agriculture 11 – is divided into 130 sub sectors. One example being  111140   Wheat Farming. So how can you use this excellent system to build your business?
Here are a few practical pointers of how we have used it to create a high growth marketing and sales environments:
Process
Develop a marketing strategy around targeting relevant companies with specific NAICS sub codes. You can take say Transportation and look into each of 100 subsectors to build a specific campaign around those companies.

Build sector content pieces demonstrating that you understand the issues that affect that niche.

Build case studies by sector adding to your credibility.

Target very specific small niche trade shows that attract companies within the sub NAICS sectors.

Build market share statistics that demonstrate progress being made to sell to these sectors.

Capitalize on the classifications by using Hoovers to identify specific companies for nurturing.

Analyze your customer base to understand which sectors have spent the most money with you.

Give each of your sales professionals a set of NAICS codes to farm and to build a business around. This ensures that no one company will be called multiple times by several salesmen.

Build specific sales narratives that uses the vocabulary of the sector.

Build on successive sales wins in a niche and develop your ability to identify the right kind of problems that have significance for that sector.

Align lead generation by NAICS code to allow targeted blog pieces that generate the right type of leads to bolster a specific sales professional's business.

Analyze your product family by NAICS code to understand your weakness in coverage. Thus you may be strong overall in biomedical but weak in the subsector of dental implants.

By building maps of sectors sales professionals are able to think like businessmen. It allows them to build their business. It allows engagement strategies to be created. It brings a formality to business development.

Taking an NAICS approach allows all sales leads to be allocated to each sales professional on an NAICS code basis. This limits the number of debates on who gets the leads.
For a discussion on taking this approach to scaling please reach out by phone or contact sheet here.