Let's be practical. Do you have time to get involved in social media? Because it does take time. The good news from first hand practical experience is that by allocating about 2 hours per week including 10 min per day you can build a very productive presence in the world of social media. Using just 3 tools, Blogging platform, Twitter and LinkedIn you can build a "voice" on your terms that can really add value to your audience and I think you will find quite cathartic. I'd never written a blog post before 2008, never tweeted and I was barely on LinkedIn. I now have over 1300 followers on my blog, over 1000 Twitter followers and 688 LinkedIn contacts that I've spoken to or met in person.
Here is what I know:
WordPress Blogging Platform (this is the platform for this blog)
Start with an area of business or hobby or whatever you feel strongly about and focus on that. Everything I write about revolves around "Execution Tips" for busy executives.
So originally I drafted 10 big playbook areas e.g. Positioning, Marketing, Sales, Metrics, etc that I wanted to cover and 10 sub ideas within each that I thought I could cover. Well that gave me 100 ideas. Now the frightening blank sheet of paper had vanished.
WordPress allows you to literally start typing just like a word doc. You want to link a word to a web site, highlight the word, then use the link icon in the tool bar, copy the url into the link and done.
Again using the tool bar, you can insert images in jpeg format, videos etc. You can preview it, and edit it until you are ready to publish. Make sure you use Tags on the sidebar to record key phrases the search engines can pick up.
Shutterstock is a great place to find high quality images like the one above.
Give yourself a publishing deadline. In my case I publish every Friday. That means I need to have written the copy by Thursday to be safe. Of course you can write several posts at once and schedule them to be published over the following weeks.
Try to stick to 600 words (I know this post is 800) if possible.
To insert a spreadsheet table is relatively straightforward.-Highlight the table in excel and print to Adobe pdf-Once the pdf image appears use Tools tab, Advanced Editing, Crop Tool – to highlight just the table.-Click on the table and in the pop up window look for the small box "remove white margin" tick box- Now save this image as jpeg file-Use the WordPress tool bar to insert your saved image eg

 

Twitter
Again you need to be clear on your objectives. I do not (or rarely) answer the question "what are you doing?" Instead I answer the question: What have I found interesting today on my reading travels? So every day I take 10 min to share really compelling articles, links to the WSJ, FT, and great blogs.
Use the Twitter platform to let people know you've just posted a blog.
Use it to tell people you are attending an event.
Use the Direct Message functionality (DM) to contact followers who follow you.
Use RT to retweet tweets you want to share
Curate the fire hose of noise by using TweetDeck –
This allows you to create columns for everyone- all your friends you follow, to new people who follow you, to Direct Messages etc. This allows you to see specific Tweets from specific people quickly.
As a rule I'm wary of people with a higher number of following than followers.
Find someone interesting – explore their followers to look for common interest.
Create your own lists and keep a portfolio of people you want to keep in touch with.
TweetDeck also automatically shrinks links to keep you under the 140 character limit.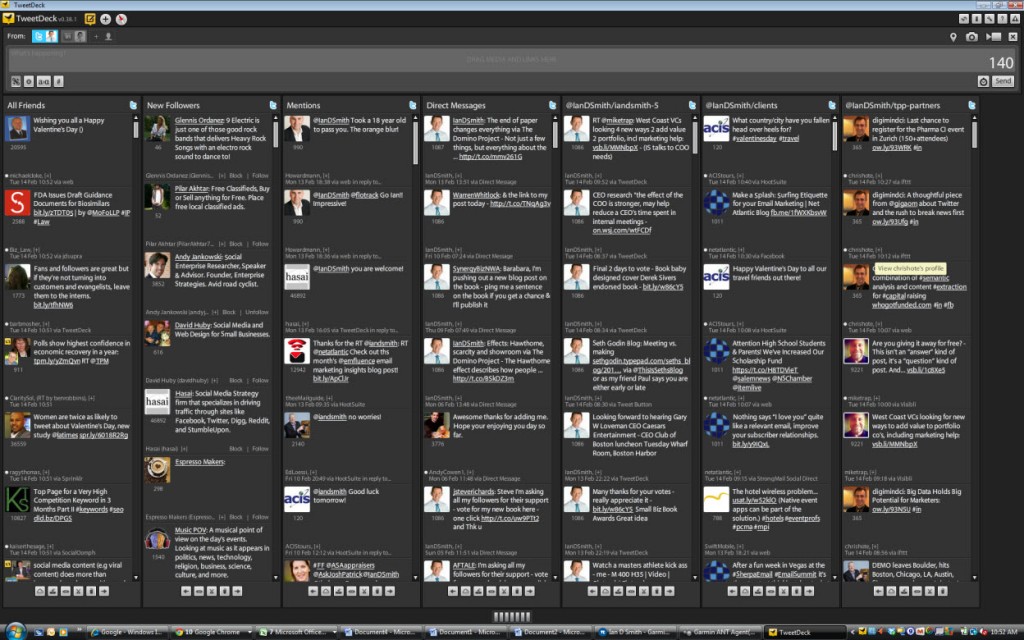 LinkedIn
You might already have some form of presence on LinkedIn but there is a significant amount of functionality hidden away. So my advice would be to kick the tires. Press a few tabs and explore the functionality of the site.
Specifically I would take some time to build out your profile. It's an opportunity to get across your passion about current projects/ companies/issues.
Join a few groups – you can see the details behind groups by clicking on Groups, members tabs.
Announce your blog posts – by framing them as a question e.g. "Do we need to simplify to be successful?" was a recent blog post that garnered a lot of interest.
Form a page for your company
Become a Premium member to access a bunch of services e.g. you can send direct messages to all your contacts, see who is looking at your profile, organize your contacts
Join the conversation with some great Groups. Elevate your company's brand.
Create a unique url -see here.
Review all your profile details for SEO key words that you want to drive search results.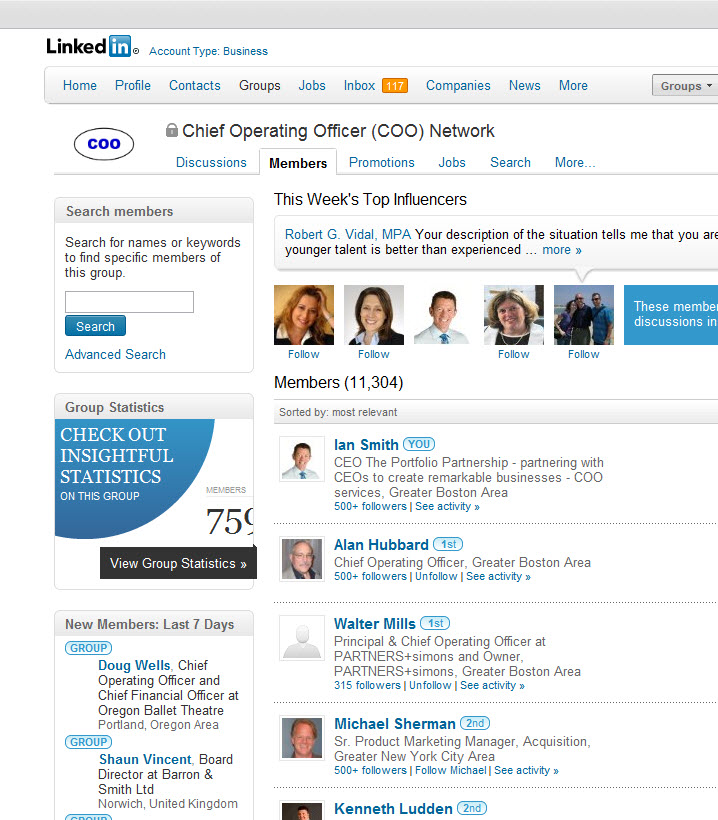 So I hope that helps with the basics. It's really about giving up a little bit of time each week and diving in.
Final chance to vote for my new book – the Orange Paperback – 60 chapters packed with stuff just like this post! – VOTE