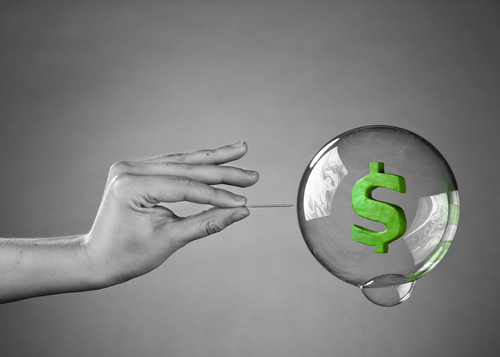 Every company is different. Every business has a lifecycle. Hopefully you will recognize some or all of your company's profile in these graphs.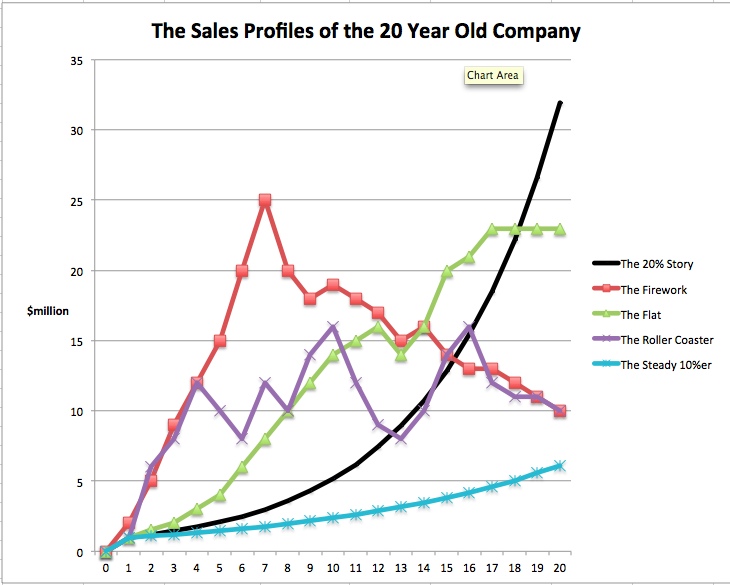 The question that needs to be asked is always where do I go from here? But first you need to do a deep dive to understand what caused that historical profile? Let's take each in turn and illustrate, by way of listing smart questions, the process of Discovery you need to execute.
The Firework
You clearly shipped an amazing product or service that the market loved. Well, loved for seven years. What went wrong? Technology shift? Badly serviced customers? Loss of a key customer? It took you five years to hit that spot again. 

Why has the new product only grown at 10%? How could you bring back the magic of that original 10x thinking?

Is the market confused who you are? Have you explained the new positioning clearly to your prospects?
Understanding the story behind a Firework company is about understanding why you were so successful. In this example at least one must assume you survived. Sadly many companies with this sort of growth, come down to earth with a bang.
The Roller Coaster
The first 10 to 11 years were amazing, but did you reinvest in innovation? And it can't be any innovation. It must play to your strengths. So many software companies, for example, hit on a successful product area and then diversify into another sector where their expertize is limited.
Have you ever invested in a sales process that forces the right repeatable behavior? Alignment between the market needs, the product road-map, the marketing narrative and the sales strategy is missing. Right? This profile is seriously testing your cash flow.
Intuitively an entrepreneur with great passion has failed to build a professionally managed business. But you need to prove that's the case. You need to uncover quickly the real issues killing this business. You absolutely need to stabilize the ship before it sinks.
The Flat
Clearly the business has stopped growing. Does the sales director need to be replaced?
Which products were driving that growth? Are all products flat?
What's happened to the competitors?
What's happened to the market?
Has more than one key employee left?
Did the rot set in many years prior to the flat performance?
Is the recession really to blame?
Do all geographic markets show the same profile?
The 10%er
If your company is showing this level of consistency, life is good, right?
Not if the market is growing at 50%!
At 10%, the questions must be about leaving money on the table. Could you have farmed clients faster?
Are you bringing new innovations to market?
Is your 20-year legacy really only a $5m business? Is that enough?
Are you developing your employees?
The 20%er
It's always amazing how much further that extra 20% takes you. After 20 years your sales are at $32m compared with $6m with 10% growth.
Any companies growing at 20% or above (and one Inc 500 Company is growing at 42,000%) need to ask the question: Are we scaling or just growing?
Even at 20% growth, you will recruit a few employees most months. Do you have an onboarding process? Do you have an internal university to train your employees?
Departments are busy but are they aligned?
As you grow past $50m, at 20% that's another $10m of revenue that's needs to be managed. Are all departments built to handle that extra business?
The Exit Plan
Of course some of these businesses represented by the graphs may want to cash out one day. Do you understand how a buyer will view these graphs? For every bad year, most buyers will want to see at least three good years to validate the turnaround.
Finally it's worth reflecting on a well known success story called Google. In it's first 13 years, Google has grown at a compound rate of 150% with sales last year of $43.7 Bn. Of course because of the law of large numbers even Google only grew at 20% in 2012!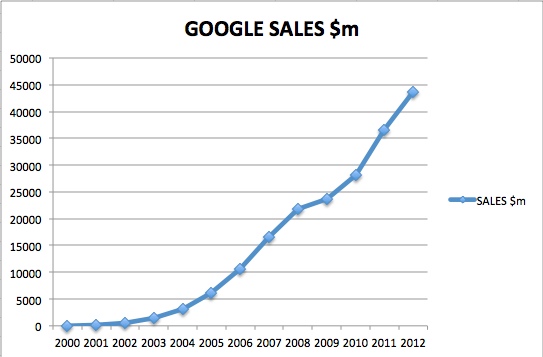 So on reflection, understanding your growth curve is key to deciding where you want go to next? Companies are vehicles for change. Choose your direction carefully, learn from the past and scale your business safely.
Like the way we think? You'll love the way we work.