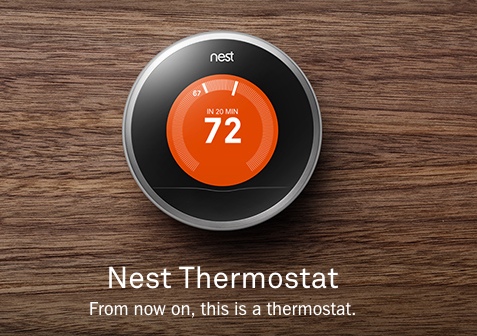 Google acquired a thermostat company called Nest for $3.2 Billion this week. Shocker or was it? The Consumer Electronics Show in Las Vegas last week, was packed full of internet connected devices from toothbrushes, wristwatches, ovens, toys, fitness trackers and of course thermostats. I'd thought it might be useful to summarize recent press articles and note some actions you might consider for your business.
Observations
Gartner puts the number of connected devices at around 30 billion, which will act as a platform for hyper-growth of additional revenue of $309 billion for product and service suppliers by 2020 and $1.9 trillion in total economic impact from cost savings and improved productivity. Now there must be some great ROIs to be created with those numbers! (source WSJ Jan 5)
The explosion of "internet of things" may be constrained by: conflicting wireless communications standards, how much processing power to embed into the gadgets and privacy of data.
The data generated by connecting all these devices may be useful – the Big Data phrase rears its head again! However Joseph Bradley, Head of Cisco's "Internet of Everything" (great job title) says, "Big Data is worth absolutely nothing without big judgement." (WSJ Jan 5)
To inspire you to consider how your company can benefit from this new mindset consider: smartphones to check locked doors, social media and all things digital communicated to any screen, parking meters communicating their availability, cars connected to insurance companies to allow for more relevant premiums.
One of the key roadblocks will be the classic interoperability issue. Competing communication protocols include, Insteon, Wi-Fi, Bluetooth, Zigbee, Z-Wave. But some industry experts like Mike Soucie of Revolv says that agreements on key communication technologies may be five to 10 years away.
It's worth noting valuations for some connected device companies are very high. In addition to the Nest deal at $3.2 billion, Jawbone was recently valued at $1.5 billion (Bluetooth), Woodman Labs at $2.25 billion (GoPro video camera).
What Should You Do?
Clearly it will depend what business you are in and what industries and sectors that you sell to. However assuming that you are in the hardware or software business, I'd consider the following:
Looking through the lens of your customer, ask, what outcomes could be improved by making your product connected to each other, or connected to 3rd party products?
Review how your business customers use your product in their place of work. How do they use your product in the context of the dozen other processes that happen? Step several levels above the person who uses your product and ask, what is the management team of your customer trying to achieve?
Could changing the product roadmap of your products, to capitalize on internet connected devices, make your customers more competitive?
Do you have the relevant skillsets in your team to understand the implications of internet-connected devices?
Reconcile the real issues facing your customer with a potentially more powerful version of your products that is totally connected within the customer's world.
The world of connected software with Web Services and the Cloud have been with us for a while. However as the cost of powerful chips that can embed intelligence into business and consumer products accelerates, don't miss the bend in the road for your business.
Like the way we think? You'll love the way we work. The Portfolio Partnership works hard on the right stuff to help owners create remarkable businesses.